Our ancestors put a great deal of time and effort into understanding the natural world. Over the past 500 years, with the recent advancements in scientific discoveries, we were able to find a cure for AIDS, eradicate Polio from India, cure Tuberculosis, and as the entire world is either getting vaccinated or waiting for their turn, there must be thousands of scientists across the globe working on finding an ultimate cure for COVID-19.
As the second wave of COVID sends traumatic tremors to the entire nation, we have all observed that the conversations around proning have peaked among doctors, patients, our families, newspapers, and media alike. As a doctor, I am asked – "Dr. Ranney can proning help us with increasing our oxygen level?"
Although a simple answer to the question asked above is a yes, the technicalities involved with proning are something we all should bear in mind.
What is Proning or Prone Positioning?
Humans are subject to the same physical forces, chemical reactions, and natural selection processes that govern all living beings. Even though natural selection may have provided us with substantially more opportunities than it has provided to any other organism, there are certain boundaries. And as mortals, we too are incapable of breaking free from our biologically determined limitations – at least for the time being. COVID's impact on our lives and the people around us is distressing and has proved to us that we do not have any control over our biological limitations. But even if we can't control everything, there are ways we can work around helping our loved ones and ourselves if we are COVID positive.
The conversations around the impact of proning with COVID patients have spiked over the past month. Proning is a medically accepted position where a patient is turned from their back onto their abdomen with precise, safe motions, so the individual is lying with their face down.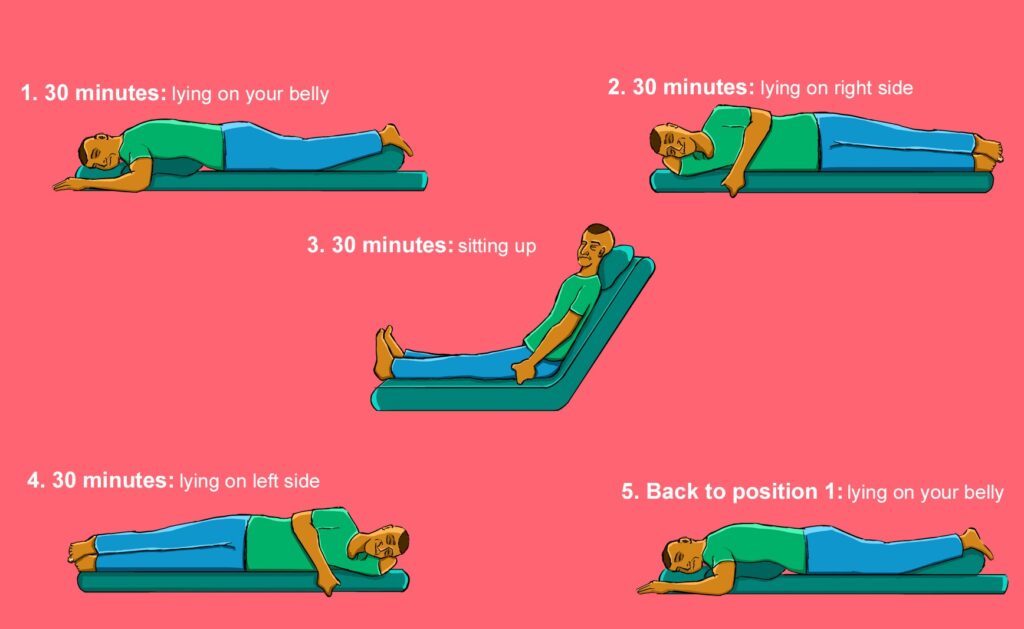 Last year as COVID-19 became a global health emergency, prone positioning in early COVID-19 ARDS (Acute Respiratory Distress Syndrome) aka COVID patients who witnessed discomfort in breathing was questioned for its effectiveness. The global researcher and scientist fraternity then began their expedition in finding the truth. An October 2020 paper published by The Lancet found that prone positioning increased oxygenation substantially when the researchers observed 23 consecutive COVID patients at the Charité – Universitätsmedizin Berlin ARDS/ECMO Center. The researchers working on this study searched PubMed without language restriction for studies published from database inception until August 15th, 2020, and found no relevant articles pertaining to COVID-19 ARDS.
This Lancet study was a breakthrough as it benefited COVID patients worldwide and as their findings provided evidence that helped in guiding medical practitioners in the treatment of patients with early COVID-19 or COVID ARDS.
Another study published in the Springer found that in a small sample of 17 patients/ subjects, proning in non-intubated COVID-19 patients with severe hypoxemia was also safe. They also highlighted that in patients with severe hypoxemia, proning should not be done for a longer duration.
Importance of Prone Positioning
What would have happened if serious research did not validate proning or for that matter, there was no hypothesis made for proning? The good news is that they do, even the Ministry of Health and Family Welfare promotes proning.
Proning is improving oxygenation of COVID-19 patients who are experiencing discomfort in breathing, especially during home isolation by:
Proning or prone positioning is required only when the patient's blood oxygen level (SPO2) is or decreases below 94%.
Proning helps in keeping the alveolar units open and helps in breathing easily. An alveolar unit is a gas exchange surface in the respiratory system and consists of the basic unit of respiration.
Proning reduces lung injury and complications related to mechanical ventilation.
Proning allows for better expansion of the dorsal/back lung area, improves body movement that ultimately enhances oxygenation or breathing.
Timely identification of breathlessness or discomfort in breathing and practicing proning can save many lives.
Right Usage of Pillow While Proning
Modern science has a common core of research methods, which are all based on collecting empirical observations, owing to which we have managed to bring famine, plague, and war under control thanks largely to our timely decision of providing food, medicine, and energy to the people in need. Similarly, a pillow works as a life hack in prone positioning and in helping save a life of a COVID ARDS patient at home.
It is advised that the patient places one pillow below their neck, one or two pillow(s) below the chest through upper thighs, and two pillows below their shins (the front part of your leg from your knee onto your foot).
For patients who are obese, the below-mentioned steps must be followed:
Keep the head high on two to three pillows – as required and will defer from patient to patient,
Place two to three pillows under the upper chest,
The belly is left free on the bed and without putting any pillow under the belly,
Place two to three pillows under the hip and thighs,
The patient should also change their positions intermittently.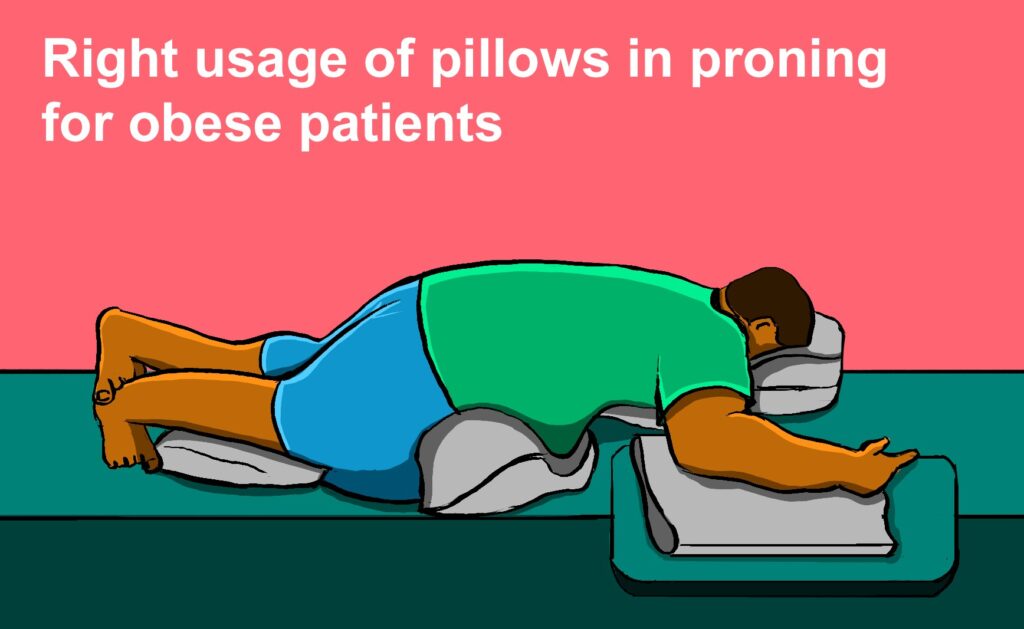 Doc M. Bio-hack: The best method to proning is to first lie on your belly, then after thirty minutes switching to the right side, sitting up, switching the position and lying to the left side, and in the end lying back on your belly.
Things to Remember While Proning in Home Settings
Avoid proning for an hour after meals,
Regular alterations between the proning positions are essential,
Avoid spending more than 30 minutes in each position,
Keep a track of any pressure sores or injuries in your body,
Monitor SPO2, along with body temperature, blood pressure, and blood sugar regularly,
Make sure the patient is doing deep and slow breathing,
As per the Ministry of Health and Family Welfare, India's guidelines, one may prone for up to 16 hours a day, in multiple cycles, and as per their comfort level.
Who Should Avoid Proning?
Even though proning is a good technique for increasing blood oxygenation in COVID patients, a patient may be unqualified for proning if they have one or more of the following conditions:
Individuals with major cardiac conditions,
Individuals with an unstable spine,
Individuals with pelvic fractures,
Individuals who have suffered burns,
Patients with open wounds,
Patients who have undergone tracheal surgery,
Pregnant women (over 24+ weeks pregnant)
Resources for Attaining More Information
To learn more about COVID-19 refer to the Ministry of Health and Family Welfare's website or sign-up for my newsletter where I share all the latest COVID and overall well being related content
References:
Sapiens by Yuval Noah Harari